7 Key Safety Tips For A Safe Self Drive Safari In Rwanda

A self drive tour means that the traveler is ultimately responsible for their movement from one point to another around the destination but can be helped with arranging the itinerary for them including suggesting best options for accommodation. As you control the wheel, you are also your own guide to every location and you, therefore have no limit to where to go (as long as it is within agreed boundaries), what to do and duration of your self drive Rwanda safari.
Unlike on a guided tour, self drive trips offer more privacy and flexibility. You can choose to change your itinerary at any time and conduct the trip at your own pace. When planning for a self drive tour in an unusual environment, it is crucial to get guiding travel information. In this article, we share the tips that will guide you through on your Rwanda self drive safari adventure;

Ensure your rental car is in good condition and is well serviced
When picking your rental car from the tour operator or car hire agency, check and confirm that the car is in good mechanical condition. It should also be well serviced for it to operate perfectly during the road trip. This also saves you from inconveniences by traffic police which may stop you for blames of driving a vehicle that is in poor mechanical condition.

Pack all your driving equipment.
Days prior to your self drive safari, make sure you have all the requirements for driving and the activities at the destination. The most important is the driving permit and perhaps a national ID or passport. Other things that you may need to carry are the emergency car mechanical equipment, camera, binoculars and some emergency contacts of your people.

Do not drive while using the mobile phone
Driving while talking on phone or texting pulls most of your attention to the message you are delivering or have received. This is considered dangerous because it has a high potential of distracting driving and increases the risk of a crash. In addition, being behind the wheels and at the same time using a cell phone is a violation of traffic rules and regulations. Traffic police in Rwanda is very strict on this issue and if apprehended, the driver is fined.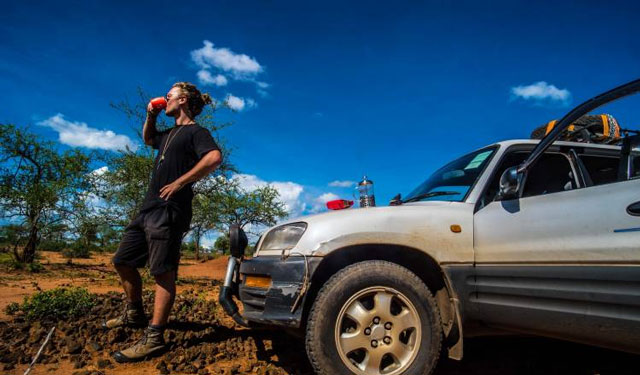 Have good knowledge of your destination
You should know your destination well, and if not, at least have a GPS or a roadmap to guide you on finding the right tracks without getting lost. A Google map is not so reliable when travelling to remote safari destinations because you may experience unstable network connection.

Drive under the speed limit while inside national parks
Apart from being a precaution for saving the animals of the park from road accidents, the speed limit also helps tourists to spot wildlife in the vegetation. High speed scares away animals and this may let you miss the chance to watch them. The maximum speed limit on all roads inside Rwanda national parks is 40km/hr.

Do not drive at night
Whether you are staying inside the park or outside, it is advisable that you get to your final destination and lodge early enough. Avoid driving past 7pm especially if you are driving in remote areas of Rwanda. It becomes challenging to easily get through the bad roads when it is dark since the roads have no lights. In addition, it can be risky when the weather is bad.

Respect track demarcations while in the park
To ensure that drivers stay in their lane and animals peaceful and uninterrupted by visitors, the park made clear boundaries of tracks and warnings of not going off-track. This minimizes accidents in the park and ensures respect for the animals in their natural habitat.

Following the above driving tips will help you have a smooth Rwanda self drive safari hence enjoy every bit of the trip. Are you planning to travel to Rwanda this season and want to hire a car for self drive or with a driver? Contact us today through info@rentadriverrwanda.com or call/chat with us at +256-700 827247 / +256-700135510.